Laser cutting services number #1!
The longest tradition in delivering laser cutting services – 25 years.
The biggest number of state-of-the-art laser machines in Slovenia – CO2 and FIBER.
The largest permanent stock of various materials – more than 500 tons of sheet metal.
We offer cutting sheets of thickness to:
INOX: up to 30 mm,
METAL: up to 30 mm,
ALUMINIUM: up to 30 mm,
COPPER, BRASS, AND OTHER COLOR METAL: up to 12mm.
The machine park includes:
LASER CUTTING
Fiber laser T5040 12 kW with the possibility of cutting sheet metal with a width of 2000 mm and a length
of 4000 mm;
Bystronic laser fiber 3015 10kW with the possibility of cutting non-ferrous metals (copper, brass) up to 12 mm;
Trumpf CO2 laser T3050 with the possibility of cutting sheets with activated water cooling for thicker sheets
with a minimal core and a perfect cut;
Trumpf CO2 laser T3060 with the BRIGHTLINE cut option for an optimal cut.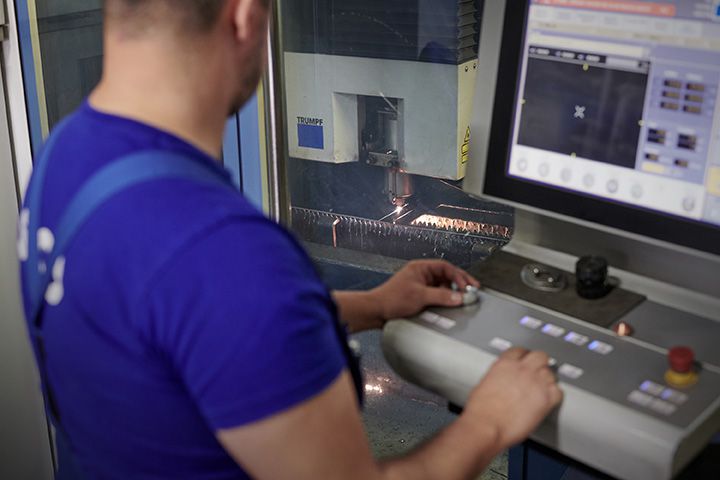 Possibility of laser cutting of tubes and profiles with the most modern 3D fiber cutter.
Machine park and processing options:
3D laser machine for cutting tubes and profiles:
Max. tube cutting diameter fi 240 mm;
Max. cutting diameter of rectangular tubes 200 mm;
Fiber laser source 3000 W;
Max. length of tubes and profiles 6500 mm;
3D laser head – 45° left or right rotation.